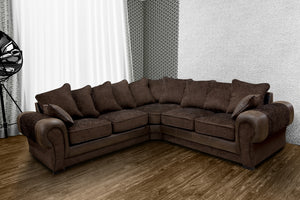 Tango Corner Sofa
Regular price £1,500.00 £850.00 Sale
The Tango range offers luxurious comfort style and reliability with an number of fibre filled cushions. The seat cushions are foam and fibre filled for the truly relaxing and comfortable experience. Only quality seasoned timber has been used  in crafting  the frame to meet a superb level of quality. These Tango sofas comes in a brown colour options, and are made from stylish jumbo cord fabric or chenille.
Dimensions:
Length: 272 cm Width: 272 cm Height: 94 cm Depth: 95 cm.
Available colours: brown/brown.
Available fabrics: chenille
 What do you need to know before you buy:
It is very important that you measure your door frames, staircases and banisters. If you have a lift, make sure that your item/s will fit, before you buy our product/s. It is your responsibility to check all the measurements. This way we can avoid problems with delivering your item/s and additional charges for storage and collection.
Payment: 
We now offer this suite on finance (Pay weekly, Fortnightly, every 4 weeks or Monthly)
We accept payment through PayPal, Debit/Credit Card or Cash on Delivery. We understand that not all customers are comfortable with ordering online and paying therefore we allow our customers to pay cash on delivery which allows them the opportunity to look at the item that they have purchased. It is only when you are happy with it that you pay us. If you have any queries please send us a message.
Customer Satisfaction:
Customer satisfaction is a high priority to us, we aim to provide the best possible service to our customers.  If for what ever reason you are not happy please contact us. Please ensure you read our terms and conditions when ordering any product.
THANK YOU FOR YOUR BUSINESS AND WE HOPE YOU ENJOY YOUR PURCHASE