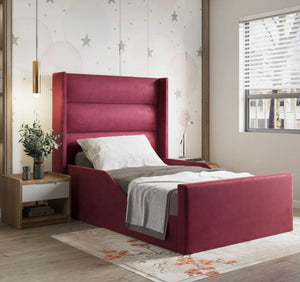 Velvet Toddler Bed
Regular price £450.00 Sale
Introducing the Velvet Toddler Bed, a luxurious and secure sleep solution for your little one. This bed exudes opulence with its sumptuous velvet upholstery, creating a cozy and inviting space in your child's room. The sturdy guardrails provide added safety during the transition from a crib. Its low-to-ground profile ensures easy access for toddlers. Crafted from durable, non-toxic materials, this bed is designed to withstand the test of time. Assembly is a breeze, making it a convenient choice for parents looking to create a stylish and snug sleep environment for their child. Elevate your child's sleep space with the Velvet Toddler Bed, where comfort and security meet in a plush, elegant design.
Headboard Features

 Free Matching Padded Headboard

 Headboard color will match the divan base
What do you need to know before you buy:
It is very important that you measure your door frames, staircases and banisters. If you have a lift, make sure that your item/s will fit, before you buy our product/s. It is your responsibility to check all the measurements. This way we can avoid problems with delivering your item/s and additional charges for storage and collection.
Payment: 
We now offer Velvet Toddler Bed on finance. (Pay weekly, fortnightly, every 4 weeks or monthly).
We accept payment through PayPal, Debit/Credit Card or Cash on Delivery. We understand that not all customers are comfortable with ordering online and paying therefore we allow our customers to pay cash on delivery which allows them the opportunity to look at the item that they have purchased. It is only when you are happy with it that you pay us. If you have any queries please send us a message.
Other Services:
As the item come unassembled our professional drivers can help by unwrapping the sofas and assembling them for you for a small fee of £40. If you would like to arrange this then please mention this at the time of ordering
Customer Satisfaction:
Customer satisfaction is a high priority to us, we aim to provide the best possible service to our customers. If for what ever reason you are not happy please contact us. Please ensure you read all the terms and conditions before purchasing our products.
THANK YOU FOR YOUR BUSINESS AND WE HOPE YOU ENJOY YOUR PURCHASE!!!