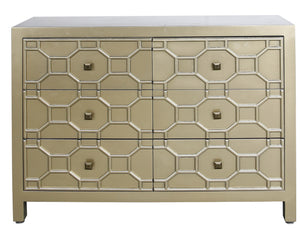 Carlotta gold 6 Drawer Cabinet
Regular price £759.00 £549.00 Sale
Carlotta Gold 6 Drawer Cabinet
Elevate your space with the Carlotta Gold 6 Drawer Cabinet, a splendid fusion of aesthetics and utility. Crafted from premium wood, this cabinet boasts a captivating raised geometric design that adds a touch of elegance to your surroundings.
Dimensions:
Weight (kg): 56
Height (cm): 92
Depth (cm): 38
Length (cm): 127
Pre-Purchase Considerations:
Before making your purchase, it's imperative to ensure that your door frames, staircases, and banisters can accommodate the item's dimensions. If you possess a lift, do ascertain the fit before proceeding with your order. Confirming these measurements is crucial to sidestep potential delivery complications and any associated fees for storage or collection.
Payment Options:
We're delighted to introduce financing options for our suite. Opt for weekly, fortnightly, every 4 weeks, or monthly payment plans.
Payments can be conveniently made via PayPal, Debit/Credit Card, or Cash on Delivery. For those who prefer to transact in person, our Cash on Delivery method grants you the chance to inspect the purchased item before finalizing payment. Payment is only required when you're fully satisfied. Should you have any queries, please don't hesitate to reach out.
Delivery Information:
Experience the convenience of Free Delivery within 5-7 days, contingent upon your Post Code.For deliveries to elevated floors, supplementary charges ranging from £20 to £60 may apply. Feel free to contact us through phone or email to inquire about these charges. Our delivery service operates seven days a week.
Additional Services:
Given that the item arrives unassembled, our proficient drivers can lend their expertise by unwrapping and assembling the cabinet for a nominal fee of £40. If you wish to avail of this service, kindly indicate your preference during the ordering process.
Commitment to Customer Satisfaction:
Your contentment ranks high on our list of priorities. We're dedicated to offering the finest service to our esteemed customers. Should you encounter any reason for discontent, please reach out to us. We urge you to review our comprehensive terms and conditions before making a purchase.
THANK YOU FOR CHOOSING US - MAY YOUR PURCHASE BRING YOU DELIGHT!
For further inquiries, please contact us at 01422 751371 or email us at info@furnicoliving.co.uk.