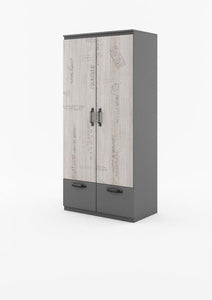 Spencer 2 Door Wardrobe
Regular price £299.00 £289.00 Sale
Spencer 2 Door Wardrobe
Elevate your bedroom with the Spencer 2 Door Wardrobe, a true embodiment of timeless design. Its classic shape brings a touch of sophistication to any space. The clean lines and elegant details create an aura of understated luxury, making it a versatile storage solution that effortlessly complements various décor styles.
Ample Storage: Wardrobe for All Your Needs
Step into a world of ample storage with the Spencer 2 Door Wardrobe. This spacious unit offers two doors that open to reveal a thoughtfully designed interior with compartments, shelves, and hanging areas. Whether it's clothing, accessories, or other belongings, this wardrobe ensures efficient organization while adding a touch of style to your bedroom.
FREE DELIVERY!!!!
Embrace your child's individuality! This stylish, funky design is the perfect storage solution for your child's bedroom requirements.
Available in Graphite carcass and Oak Spencer front with writings for an original modern look. Great for both, girls and boys!

Nothing can inspire a child as much as growing up in a home where functionality and beauty are valued and inspiring. Help them keep their world organised. Ideal and functional for any sized bedroom. Saving space on the outside whilst creating more space within. This set is designed to fit all your child's necessities, enhance concentration and encourage study. Improved build quality increases stability.
Our furniture meets all the children's needs and follows the latest trends. Choose from sets already put together or customise your own.
What do you need to know before you buy:
It is very important that you measure your door frames, staircases and banisters. If you have a lift, make sure that your item/s will fit, before you buy our product/s. It is your responsibility to check all the measurements. This way we can avoid problems with delivering your item/s and additional charges for storage and collection.
Dimensions: 
W90cm x H192cm x D50cm
We now offer this suite on finance. (Pay weekly, fortnightly, every 4 weeks or monthly).
We accept payment through PayPal, Debit/Credit Card or Cash on Delivery. We understand that not all customers are comfortable with ordering online and paying therefore we allow our customers to pay cash on delivery which allows them the opportunity to look at the item that they have purchased. It is only when you are happy with it that you pay us. If you have any queries please send us a message.
Delivery:
If you require the item to be delivered to a higher floor then additional charges up to £20-£60 will apply, please call or email to enquire about this. We deliver 7 days a week. 
Other Services:
 As the item come unassembled our professional drivers can help by unwrapping the sofas and assembling them for you for a small fee of £40. If you would like to arrange this then please mention this at the time of ordering
 Customer Satisfaction:
Customer satisfaction is a high priority to us, we aim to provide the best possible service to our customers.  If for what ever reason you are not happy please contact us. Please ensure you read all the terms and conditions before purchasing our products.
 THANK YOU FOR YOUR BUSINESS AND WE HOPE YOU ENJOY YOUR PURCHASE!!!