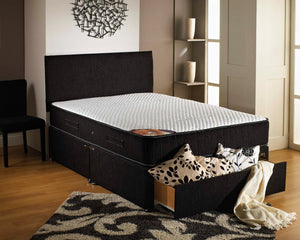 Brighton Bed (Pay weekly)
Regular price £849.00 £599.00 Sale
A 12.5g spring unit is the foundation for this mattress, with layers of luxury polyester fillings and topped with 1" Memory foam. Finally, the mattress is covered in a heavy knitted fabric designed to compliment the memory foam, and the chenille border adds a soft yet very strong feel to compliment the Base.
Includes the Base and Mattress and Headboard. (Drawer included)
Available in multiple colours
DIMENSIONS
Mattresses are by design (deliberately) manufactured shorter than the base to
accommodate the thickness of the headboard and the linen.
The mattress may compact during storage and transport and may appear short however this is nothing to worry about as it will conform to its original dimensions.
What do you need to know before you buy:
It is very important that you measure your door frames, staircases and banisters. If you have a lift, make sure that your item/s will fit, before you buy our product/s. It is your responsibility to check all the measurements. This way we can avoid problems with delivering your item/s and additional charges for storage and collection.
Payment: 
We now offer this suite on finance. (Pay weekly, fortnightly, every 4 weeks or monthly).
We accept payment through PayPal, Debit/Credit Card or Cash on Delivery. We understand that not all customers are comfortable with ordering online and paying therefore we allow our customers to pay cash on delivery which allows them the opportunity to look at the item that they have purchased. It is only when you are happy with it that you pay us. If you have any queries please send us a message.
Delivery:
If you require the item to be delivered to a higher floor then additional charges up to £20-£60 will apply, please call or email to enquire about this. We deliver 7 days a week. The current wait time for this product is up to 3/4 weeks.
Other Services:
 As the item come unassembled our professional drivers can help by unwrapping the sofas and assembling them for you for a small fee of £40. If you would like to arrange this then please mention this at the time of ordering
Customer Satisfaction:
Customer satisfaction is a high priority to us, we aim to provide the best possible service to our customers.  If for what ever reason you are not happy please contact us. Please ensure you read all the terms and conditions before purchasing our products.
THANK YOU FOR YOUR BUSINESS AND WE HOPE YOU ENJOY YOUR PURCHASE!!!
For more information please call 01422 751371 or email info@furnicoliving.co.uk