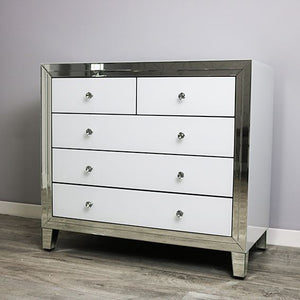 Bianco Chest of Drawers
Regular price £599.00 £450.00 Sale
Bianco Chest of Drawers
Elevate your living space with the sophisticated allure of the Bianco Chest of Drawers. A harmonious blend of form and function, this exquisite piece of furniture is designed to seamlessly complement your interior decor while offering ample storage solutions.
Dimensions

:
100cm (Length) x 50cm (Width) x 90cm (Height)
Key Considerations Before Purchase:
Prior to making your purchase, it is imperative to take into account the spatial dynamics of your surroundings. Kindly ascertain that the dimensions of door frames, staircases, and corridors align harmoniously with those of the Bianco Chest of Drawers. In instances where an elevator is accessible, meticulous evaluation of its capacity in relation to the item's dimensions is advised. Your diligence in confirming these aspects will preempt any challenges during the delivery phase and will obviate any potential charges associated with storage and retrieval.
Payment Options:
We are pleased to offer a range of payment options to suit your convenience. These include the flexibility of paying on a weekly, fortnightly, every 4 weeks, or monthly basis. You can choose to make payments via PayPal, Debit/Credit Cards, or opt for Cash on Delivery. For those who prefer a tactile approach, our Cash on Delivery option allows you to inspect the product before completing the transaction. Your satisfaction is paramount.
Commitment to Customer Satisfaction:
Your contentment is our utmost priority. We strive to provide exceptional service and products that exceed your expectations. If, for any reason, you find yourself less than satisfied, please reach out to us. We encourage you to familiarize yourself with our terms and conditions before finalizing your purchase, ensuring a seamless and gratifying experience.
Thank You for Choosing Us:
We extend our gratitude for choosing us as your provider of fine furnishings. May the Bianco Chest of Drawers enhance your living space and bring lasting delight.