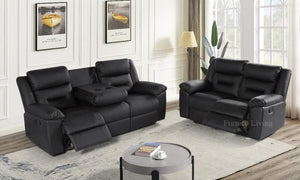 Armano Leather Reclining Sofa
Regular price £400.00 Sale
ARMANO LEATHER RECLINING SOFA
The Armano Leather Reclining Sofa is the epitome of luxury and comfort. Crafted with exquisite leather, it exudes sophistication and durability. Its reclining feature allows you to unwind in style, and the generously padded seats offer a plush seating experience. Whether you're lounging or entertaining, this sofa combines timeless elegance with modern convenience, making it the centerpiece of any living space.
Secure Your Order Today for Early December Delivery
Armano Leather Reclining Sofa 
Dimensions:
3 Seater: 200cm (W) x 98cm (D) x 98cm (H)
2 Seater: 147cm (W) x 98cm (D) x 98cm  (H)
What do you need to know before you buy:
It is very important that you measure your door frames, staircases and banisters before you buy Armano Leather Reclining Sofa. If you have a lift, make sure that your item/s will fit, before you buy our product/s. It is your responsibility to check all the measurements. This way we can avoid problems with delivering your item/s and additional charges for storage and collection.
Payment: 
We now offer this suite on finance. (Pay weekly, fortnightly, every 4 weeks or monthly).
We accept payment through PayPal, Debit/Credit Card or Cash on Delivery. We understand that not all customers are comfortable with ordering online and paying therefore we allow our customers to pay cash on delivery which allows them the opportunity to look at the item that they have purchased. It is only when you are happy with it that you pay us. If you have any queries please send us a message.
Customer Satisfaction:

Customer satisfaction is a high priority to us, we aim to provide the best possible service to our customers.  If for what ever reason you are not happy please contact us. Please ensure you read all the terms and conditions before purchasing our products.
THANK YOU FOR YOUR BUSINESS AND WE HOPE YOU ENJOY YOUR PURCHASE  OF Armano Leather Reclining Sofa!!!