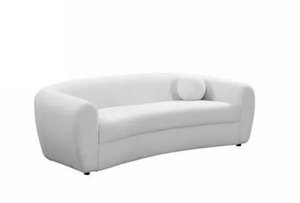 3 Seater Sofa | Living Room Furniture
Regular price £726.00 Sale
3 Seater Sofa
FREE FAST DELIVERY!!!!
Our exclusive 3 Seater Sofa is a strong, sturdy set of living room furniture that adds a modern, contemporary feel to your surroundings.
Available in White
Dimensions:
What do you need to know before you buy:

It is very important that you measure your door frames, staircases and banisters. If you have a lift, make sure that your item/s will fit to avoid the disappoint of the sofa not fitting through the doorway. 
This sofa does not have the feet or connectors attached. This is to ensure the item will fit into your property preventing any possible damage.  The feet/ screws/ plates / connectors will be provided separately on delivery so you can assemble the sofa
Payment: 
Finance options available (Snap finance, Klarna, Clearpay, Laybuy, Dividebuy). For more info please see our finance page.
We accept payment through PayPal, Debit/Credit Card or Cash on Delivery.
We understand that not all customers are comfortable with ordering online and paying therefore we allow our customers to pay cash on delivery which allows them the opportunity to look at the item that they have purchased. It is only when you are happy with it that you pay us. 
Customer Satisfaction:

Customer satisfaction is a high priority to us, we aim to provide the best possible service to our customers.  If for whatever reason you are not happy please contact us. Please ensure you read our terms and conditions when ordering any product.
THANK YOU FOR YOUR BUSINESS AND WE HOPE YOU ENJOY YOUR PURCHASE!!!