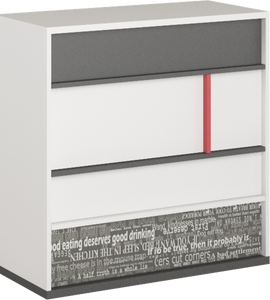 Alex Chest of Drawers
Regular price £275.00 £249.00 Sale
Alex Chest of Drawers
Celebrate Your Child's Uniqueness with a Stylish White Alex Chest of Drawers!
Indulge in a blend of style and funk with this captivating and functional design – the ultimate storage solution for your child's bedroom. Inject a splash of vibrant colour into your living space with this elegant White Chest of Drawers. Available in a stunning White carcass and a Grey front adorned with playful red handles and elements, this design offers a refreshingly modern aesthetic. A versatile choice that suits both boys and girls!
Nothing can inspire a child's imagination more than growing up in a home that appreciates the fusion of functionality and beauty. Empower them to keep their space orderly with this stylish White Chest of Drawers. Crafted to seamlessly fit bedrooms of any size, this set maximizes external space while expanding internal storage. Designed to accommodate all your child's essentials, enhance concentration, and foster a studious environment. Enhanced build quality ensures heightened stability.
Our furniture is meticulously tailored to fulfil children's needs while embracing the latest trends. Choose from pre-assembled sets or tailor-make your own with a custom White Chest of Drawers.
Dimensions:
W90cm x H90cm x D40cm
What You Should Consider Before Purchase:
Prior to making a purchase, accurately measure your door frames, staircases, and banisters. If you have a lift, ensure that your chosen item(s) will fit before finalizing your order. Responsibility lies with you to verify all measurements, thereby avoiding delivery issues and any potential charges for storage or collection.
Payment Options:
Our suite can now be acquired through a flexible finance plan. (Choose from weekly, fortnightly, every 4 weeks, or monthly payments).
We accept payments via PayPal, Debit/Credit Card, or Cash on Delivery. Recognizing that not all customers are comfortable with online transactions, we offer the option to pay cash on delivery. This affords you the chance to inspect your purchased item before payment. Only when you are satisfied will payment be processed. Should you have any inquiries, feel free to get in touch.
Delivery:
For deliveries requiring transportation to a higher floor, additional charges ranging from £20 to £60 may apply. Kindly contact us via phone or email for inquiries regarding this service. Our delivery service operates 7 days a week.
Additional Services:
Given that our items arrive unassembled, our skilled drivers can assist by unwrapping and assembling your furniture for a nominal fee of £40. If you wish to avail of this service, please inform us at the time of ordering.
Customer Satisfaction:
Prioritizing customer satisfaction is paramount to us. Our goal is to offer the finest service possible to our esteemed customers. If for any reason you are not content, please reach out to us. Make sure to peruse our terms and conditions thoroughly before making a purchase.
THANK YOU FOR CHOOSING US! WE HOPE YOU DELIGHT IN YOUR ACQUISITION!