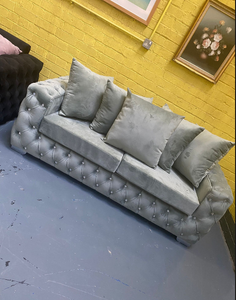 Aston Suite Silver
Regular price £600.00 Sale
Aston Suite 
The Aston Suite is a strong, sturdy set of living room furniture that adds a modern, contemporary feel to your surroundings.
This sofa has a strong wooden frame for year-round support and benefits from thick luxury velvet seating pads with quality foam fillings.
Available in a variety of colours. Please call customer service to enquire.
PLEASE NOTE DIAMANTES ON CUSHIONS ARE INTENDED FOR DECORATIVE USE, IF DAMAGED REPLACEMENTS CAN BE PURCHASED, PLEASE CONTACT US FOR PRICES
Dimensions:
3 seater - 215 cm (W) x 85 cm (D) x 90cm (H)
2 seater - 182 cm (W) x 85 cm (D) x 90cm (H)
1 seater - 110cm (W) x 85cm (D) x 90cm (H)
Footstool - 100cm (W) x 60cm  (D) x 45cm (H) (sizes may vary)
Corner 2c2 sofa bed - 260cm x 260cm
Corner 2c2 - 260 x 260cm
Seating area to floor (including cushion) - 44.5 cm 
Arm Rest - 25.5cm wide
What do you need to know before you buy:
It is very important that you measure your door frames, staircases and banisters. If you have a lift, make sure that your item/s will fit, before you buy our product/s. It is your responsibility to check all the measurements. This way we can avoid problems with delivering your item/s and additional charges for storage and collection.
Payment:
We now offer this suite on finance (Pay weekly, Fortnightly, every 4 weeks or Monthly)
We accept payment through PayPal, Debit/Credit Card or Cash on Delivery. We understand that not all customers are comfortable with ordering online and paying therefore we allow our customers to pay cash on delivery which allows them the opportunity to look at the item that they have purchased. It is only when you are happy with it that you pay us. If you have any queries please send us a message.
Customer Satisfaction:
Customer satisfaction is a high priority to us, we aim to provide the best possible service to our customers.  If for whatever reason you are not happy please contact us. Please ensure you read our terms and conditions when ordering any product.
THANK YOU FOR YOUR BUSINESS AND WE HOPE YOU ENJOY YOUR PURCHASE!!!